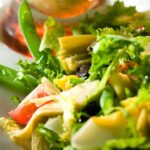 This fresh and simple salad is a classic Italian plate and can be used as a side or served up as lunch. Top with Double-Mustard Vinaigrette for a delightful kick and pair with a lively Sauvignon Blanc.
Ingredients
8
hard boiled eggs, peeled and quartered
8
cooked yellow-fleshed baby potatoes, about 2/3 lb (300 g)
½
lb
green beans, trimmed and blanched
8
olives (preferably Niçoise), pits removed, sliced
½
cup
marinated artichokes, roughly chopped
2 ½
oz
arugula or baby greens
Instructions
1
Lay your eggs, potatoes, beans, olives and artichokes out on a bed of arugula or baby greens and sprinkle with the capers.