Recipe developed by: Raghavan Iyer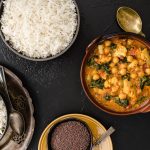 Mustard seed, when popped in hot oil, release a sweet and nutty flavor akin to popcorn. But when ground and turned into a paste with hot water, the same seeds breathe pungent fire. Include the two techniques in the same recipe, and watch a brilliant balance of tastes, textures and colors come alive in every mouthful. Serve a bowl of this stew with crusty-warm slices of baguette or even steamed basmati rice for a quick weekday fare.
Yields
8 Servings
Prep Time20 mins
Cook Time30 mins
Total Time50 mins
Difficulty
Intermediate
Ingredients
8
slices fresh ginger, the size and thickness of a 25-cent coin, skin on
4
- 5 dried red cayenne chilis (like Chile de arbol), stems discarded
2
Tbsp
black or yellow mustard seed
2
tsp
black or yellow mustard seed
1
can (14.5 oz) diced tomatoes, including juices
1
can (15 oz) cooked chickpeas (garbanzo beans), including liquid
4
cups
cauliflower florets, firmly packed 1 inch pieces
2
Tbsp
dark brown sugar, firmly packed
8
cups
baby spinach leaves, firmly packed
juice from 1 medium lemon or lime
Instructions
1
Pulse the onion, ginger, and chilis in a food processor until finely chopped.
2
Grind* 2 tablespoons of the mustard seeds to the texture of finely ground black pepper. Tap this out into a small bowl and stir in the turmeric. Whisk in the hot water to unleash the pungency of the mustard and create a smooth paste.
3
Heat the oil in a Dutch oven. Once the oil appears to shimmer, sprinkle in the remaining 2 teaspoons mustard seeds. Once the seeds start to pop, cover the pan. As soon as all the seeds finish popping (not unlike popcorn), about 1 minute, sprinkle in the fennel and cumin, which will instantly sizzle and turn reddish brown. Stir in the onion-ginger mixture and stir-fry the medley until the onion and ginger are light brown around the edges and the chilis smell pungent, 4 to 5 minutes.
4
Pour in the mustard paste and continue to stir-fry as the mustard releases a strong pungent aroma (adequate ventilation is a good idea) that eventually smells almost sweet, 1 to 2 minutes.
5
Stir in the tomatoes, chickpeas, water, cauliflower and sugar. Scrape the bottom of the pan to release any collected bits of onion and spices and bringing all those flavors into the sauce. Once the stew starts to boil, lower the heat to medium, cover and continue to simmer briskly. Stir occasionally until the cauliflower is fork-tender, 15 to 17 minutes.
6
Stir in handfuls of the spinach, mixing it in to wilt the leaves. Repeat until all the spinach is used up, about 3 minutes. Stir in the salt and lemon juice and serve.
Substitutions
8
Any vegetable, ounce for ounce, is fair game if either cauliflower or spinach is not to your liking.
Nutrition Facts
Serving Size 1 cup
Servings 8
---
Amount Per Serving

% Daily Value *

Total Fat 6g

10

%

Saturated Fat 0g

Cholesterol 0mg

Sodium 620mg

26

%

Total Carbohydrate 20g

7

%

Dietary Fiber 5g

20

%

Sugars 8g

Protein 5g

10

%
---
* Percent Daily Values are based on a 2,000 calorie diet. Your daily value may be higher or lower depending on your calorie needs.