Recipe developed by: Nancie McDermott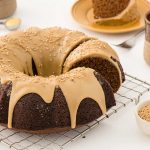 Velvety-smooth with irresistible notes of heat and spice, this gorgeous glaze gives your pound cake an elegant look and incredible sweet-tangy finish. Stirred up in a saucepan, this quick sauce works as a finish for ice cream, bread pudding, and cookies. Make the glaze just before you want to use it on the cooled cake.
Yields
1 Serving
Prep Time15 mins
Cook Time7 mins
Total Time22 mins
Ingredients
1 ½
cups
powdered sugar, sifted
3
Tbsp
yellow mustard seed
Instructions
1
Combine the brown sugar and butter in a medium 1 qt saucepan.
2
Use a large spoon or a table knife to cut butter into four big chunks.
3
Place the pot over medium heat and stir often as the butter melts, mixing to make a smooth, thick sauce.
4
Add the half-and-half and stir well as the mixture comes to a gentle boil. Cook just until everything combines into a smooth, thick sauce, 1 to 2 minutes.
5
Remove from heat and stir in the powdered sugar. Use a whisk or a fork to mix the sugar into the sauce smoothly and completely. Add Dijon mustard and vanilla extract and stir to combine everything into a smooth, luscious, thick and irresistible sauce.
6
Pour the warm Caramel-Mustard Glaze over the top of the cooled Molasses-Mustard Gingerbread Pound Cake, allowing it to cover the top of the cake and flow down the sides in handsome rivulets of mustardy-caramel goodness.
7
Sprinkle with yellow mustard seeds at once to help them adhere to the glaze.
Substitutions
8
Can use evaporated milk instead of the half-and-half. Can use salted butter.
Notes
9
If the glaze cools before you have time to pour it over the cake, reheat it very gently, stirring constantly and adding a tablespoon or two of half-and-half to restore its fluid texture. Use the rewarmed glaze at once.
Nutrition Facts
Serving Size 1 tbsp
---
Amount Per Serving

% Daily Value *

Total Fat 2g

4

%

Saturated Fat 1.5g

8

%

Cholesterol 5mg

2

%

Sodium 15mg

1

%

Total Carbohydrate 12g

4

%

Dietary Fiber 0g

Sugars 12g

Protein 0g
---
* Percent Daily Values are based on a 2,000 calorie diet. Your daily value may be higher or lower depending on your calorie needs.