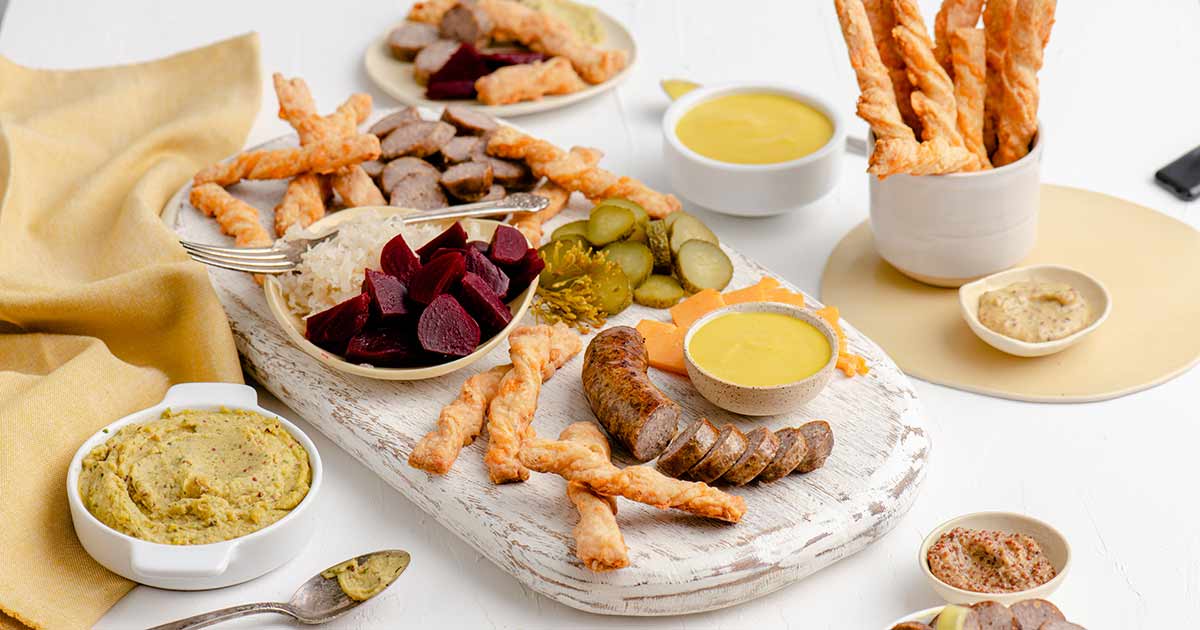 Have you heard people talking about charcuterie boards but have no idea what they are, not to mention how it's pronounced? Charcuterie (pronounced "shahr-ku-tuh-ree") is the culinary art of preparing and assembling cured or smoked meats such as ham, sausage, bacon or other meat products. A charcuterie board most often consists of an assortment of cured meats, cheeses, crackers, spreads, fruits and nuts; basically an elaborate meat and cheese board!
The great thing about a charcuterie board is its versatility. Making the perfect charcuterie board consists of a good balance of flavours, colours and textures that both contrast and complement each other to create a vibrant and interesting board.
Planning a Charcuterie Board
Decide on a concept: Do you want flavours and items that focus on a particular style, theme, region or a more basic approach with your favourite flavours and textures.
Pick a board to create the perfect presentation. Natural wood, marble or slate make an excellent option.
Pick small dishes for dips, olives and nuts.
Select a variety of cheeses, meats, crackers and produce.
Building Your Charcuterie Board
The first step is to arrange small dishes filled with nuts, pickles, dips and spreads on your board to create structure. Try our Delicious Chickpea Hummus, Grandpa's Mustard and Homemade Mustard to add zing to your board!

Nut Suggestions: Almonds, Candied Pecans, Macadamia Nuts, Cashews.
Pickles and Olive Suggestions: Gherkin Pickles, Pickled Beets, Pickled Onions, Pickles Asparagus, Kalamata Olives, Cerignola Olives.
Dip and Spread Suggestions: Mustard Butter, Artichoke Dip, Apple Butter, Spicy Apricot Jam, Honey, and Pate.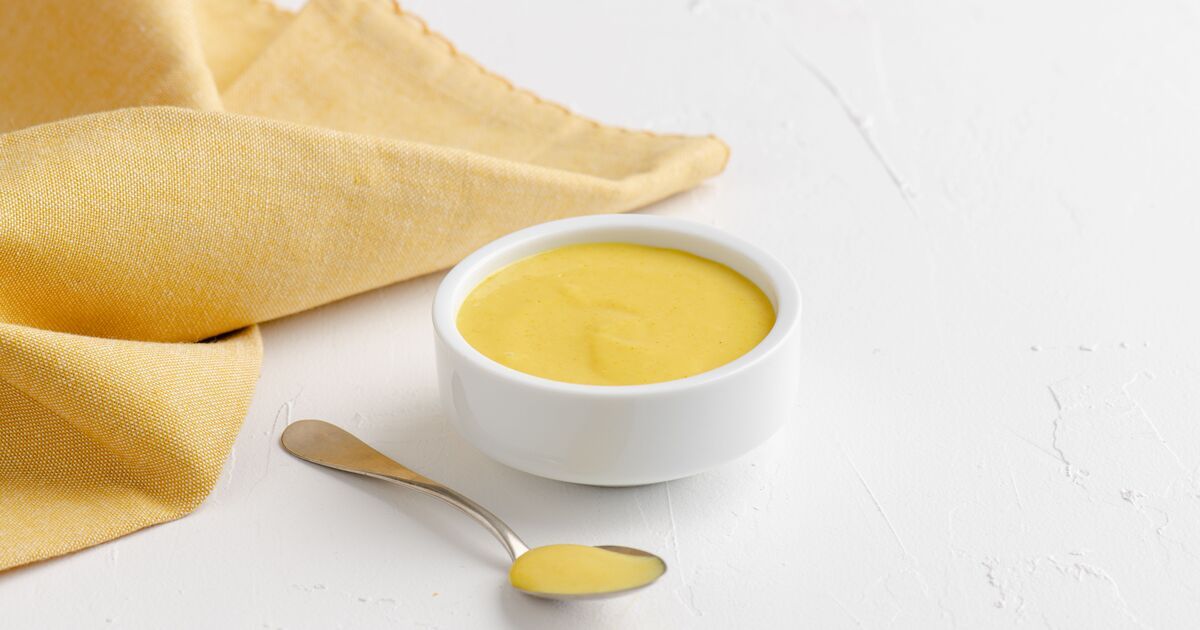 Next arrange various hard and soft cheeses with contrasting flavours and textures evenly around the board.

Cheese Suggestions: Cheddar, Brie, Camembert, Gorgonzola, Goat Cheese, Parmesan and Manchego.

Place a variety of meats with different flavours and textures in piles next to the cheeses. Try our Simply Good Sausage to add the perfect flavour and texture to your board.

Meat Suggestions: Chorizo, Prosciutto, Salami, Serrano Ham and Calabrese.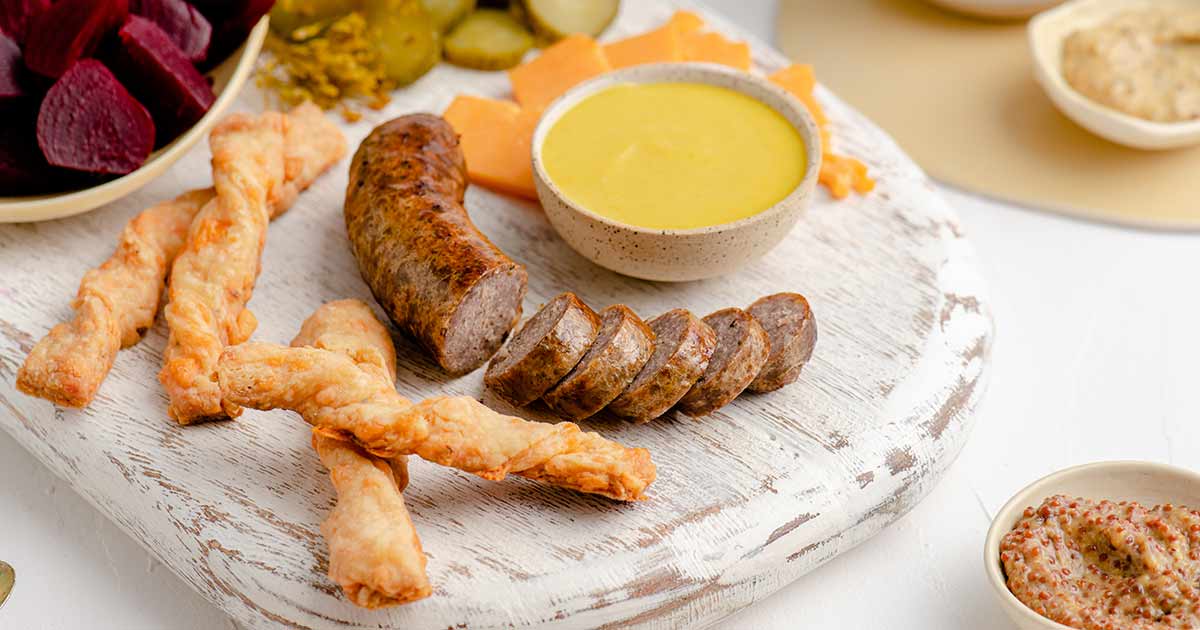 Add an assortment of crackers or sliced bread with different textures and flavours among the cheese and meat. It's ok to have a messy pile of crackers because that is just part of the board's visual appeal. Try our Mustard Cheese Sticks for a buttery flaky twist!

Cracker and Bread Suggestions: Baguette, Tiny Toasts, Sea Salt Crackers, Rosemary Crackers and Crostini Crackers.

The last step is to fill in any gaps on the board with seasonal fruit, vegetables and sprigs of herbs.

Fruit Suggestions: Green & Purple Grapes, Raspberries, Blackberries, Strawberries, Blueberries and Dried Apricot.
Vegetable Suggestions: Red & Orange Sweet Peppers, Cherry Tomatoes, Artichokes, Cucumbers, Avocado, Capers and Sun Dried Tomatoes.
Fresh Herb Suggestions: Thyme, Rosemary, Dill, Chives and Tarragon.
Once your board is finished, set it out with a few cheese knives and forks so your guests can help themselves to your delicious masterpiece!
*Food Safety Reminder: Perishable items shouldn't sit out for more than two hours and shorter if it's a hot day. To keep you and your guest safe store extra meats and cheeses in the refrigerator to restock your board as needed.