Killin' It While Grillin' It – Summer is the perfect time to relocate your kitchen to a deck, patio or balcony. Follow us on Facebook, Instagram and Twitter as we feature our favourite mustard recipes and tips to get the most out of barbecue season this August.
Expand your grilling potential with this great article on cast iron skillets from the bon appétite Test Kitchen – The One Tool You Need if You're Scared of Grilling.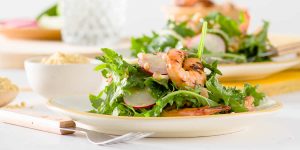 The Japanese inspired vinaigrette in this recipe brings a touch of ZING to one of our favourite light meal options. The acidity of the dressing pairs well with plump prawns and fresh apples for a refreshing, guilt-free lunch. Skip the salad and serve the prawns as an appie or skewer them for your main protein.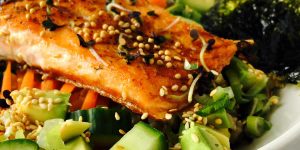 Quick and healthy, these rice bowls come together easily for a delicious weeknight dinner or summery lunch feature.  Use a cedar plank and take the rich steelhead trout to the barbecue for a unique twist on this fresh Asian-inspired dish. If you're a first time planker, check out this great article by Taste of Home – A Beginner's Guide to Cedar Plank Grilling.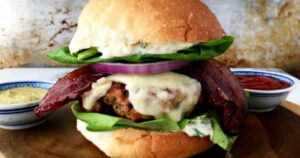 Mixing a bit of heat from the chipotle, a bit of sweet thanks to the apple and a bit of zip from three kinds of mustard, these are moist and flavourful burgers the whole family is sure to love. However, since turkey burgers are leaner than traditional beef ones, be sure not to over cook them but make sure they reach an internal temperature of 165 F. The herb aioli is also fantastic when served with grilled chicken or fish, or as a dip for vegetables.
Tender asparagus, salty cheese, crisp crumbs, zesty mustard and aromatic herbs make this a stellar side dish. Consider using a cast iron skillet and cook and serve it alongside your grilled chicken or fish.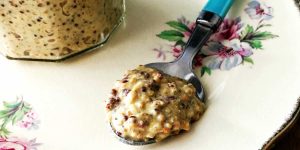 What condiment gets more sun than the rest? Mustard of course! Use it in grilling marinades, rubs and barbecue sauces or spread it on any shaped bun and it provides the perfect flavour boost to almost any protein you can name. With so many options in the grocery store it's hard to try them all, and we will admit, prepared mustards can take up a lot of valuable real estate in the fridge. So why not make your own? Substitute the water with beer, wine or grape juice and add your favourite herbs and spices to get the one that's just right for your next meal.  This mustard will keep in the fridge up to 6 months, if you can make it last that long!
We hope you get the most out of barbecue season this month by throwing some of our favourites on the grill and enjoying the weather.